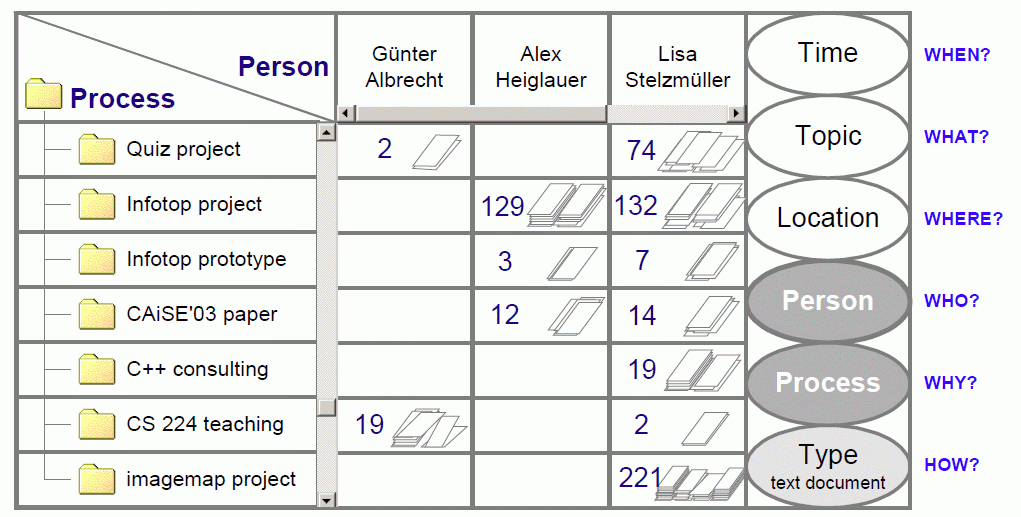 Knowledge management, knowledge work, desktop metaphor, information and communication technologies
The desktop had been used for decades to administer small amounts of documents. The desktop view was sufficient as long as the type of contents of the documents, the number of users accessing these documents as well as the size of the collections were limited. Today, the desktop provides only a restricted view to the large amount of data, including documents. Due to the increase of the size and the complexity of data we face today, much of the original desktop's functionality has moved into complex applications, e.g., web browsers. Thus, the desktop is being replaced in many situations as the central view to collections of data. This has resulted in today's scenario where we have many applications with many different views on parts of the data we have, with many categorizations of these data, and with isolated and incompatible views on these data.
We will elaborate on the changed situation in which computers are used in today's knowledge-intensive organizations and extract the primary requirements for the design of a new user interface. We will analyze the shortcomings of the desktop for tasks of "knowledge workers" and motivate its replacement by what we call infotop, a new metaphor to interact with personal knowledge environments. The scenario of an individual knowledge worker using advanced mechanisms for communication, collaboration and knowledge sharing within a network of knowledge workers will drive our approach.
Publications